Heating Ventilation & air conditioning
Our heating, ventilation and air conditioning services offer you the highest level of service in the industry and we can not only provide your business or educational establishment with maintenance but also complete commissioning and installation too.
Whether you are looking to create a heated or refrigerated environment in a single or building wide area, our team are able to provide you with the highest quality of work while also being able to work on existing systems across a wide range of manufacturers.
All of the projects that we work on are carefully planned and designed to ensure that all aspects of the project are considered fully before work begins, ensuring that you get the best level of service without the head ache of delays from emerging problems along the way that could increase timescales.
We have installed a wide range of ventilation systems into a variety of business and educational buildings, from ductwork systems through to simply fans, supply and extractor systems.
If you are looking to add heat to your building, we excel in that discipline too and can provide you with a range of solutions as per your requirements, from low pressure hot water systems through to heat pump and heat reclaim technology.
Why PFS is the right choice
PFS are extensively experienced in all disciplines of heating and ventilation services and have worked on individual, multi-split systems, heat pump systems and variable volume refrigerant (VRF) systems for a number of clients.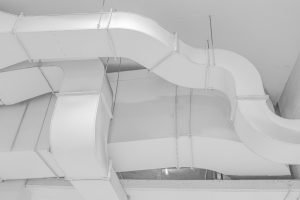 Want to find out more about Heating Ventilation & air conditioning?